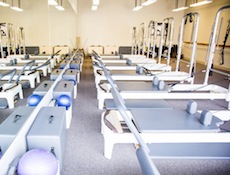 Harmony Pilates & Physical Therapy offers both a full service physical therapy clinic and attached Pilates and barre studio. Our services include: Physical Therapy with licensed PT's and covered by insurance (copays vary depending on your insurance plan), individual Pilates lessons, group Pilates equipment and barre classes, Physical Therapy, prenatal Pilates classes, weight loss programs, and a Pilates Teacher Training Program.

Harmony Pilates & Physical Therapy has two locations serving the island of Oahu. Our first studio opened in 2007 in beautiful Kailua, on the windward side of Oahu. Our second location was started in 2012 and is now located in Manoa's beautiful Manoa Marketplace shopping center. When you walk in to any Harmony Pilates, barre and physical therapy location you will discover a serene yet energizing environment where you are greeted with aloha and treated with the utmost respect. We want you to feel confident, encouraged and motivated, and to have fun! YOU are our number one priority.

We hire only the most qualified instructors and believe in offering a variety of instructor styles. We want you to develop relationships with your teacher and have someone following you as you progress. Our studio is equipped with the newest and most versatile Pilates equipment, including reformers, cadillacs, towers, chairs and springboards. We offer an air conditioned environment where you can relax in our sitting area or shop our retail section while you wait. There is plenty of free parking in both locations.

Whether you are a high-level athlete, looking to lose weight, starting a new fitness or Pilates program, wanting more energy, or recovering from an injury, Harmony Pilates & Physical Therapy will meet your needs.

For more information on Shirley Dumaw, the owner of Harmony Pilates, click here.

For more information on Harmony Pilates instructors and physical therapists, click here.

Harmony Pilates & Physical Therapy Mission Statement :
Harmony Pilates & Physical Therapy strives to create an environment of encouragement, enthusiasm and professionalism to empower people and help them reach their highest potential in health and life. We promote integrity and excellence in the fields of Pilates and Physical Therapy, while working to stay at the forefront of these fast-growing industries. We maintain a team of only the best health care and fitness professionals, who display initiative, creativity, dedication and passion in their fields. Finally, Harmony supports our local, national and international Pilates & PT communities through the sharing of ideas, open communication and charitable giving. We will evolve as our clients' needs and tools in the industry evolve, while always maintaining focus on our core values and guiding principles. Harmony is not one location or person...it is a way of life.