Getting Started!


Click here to view our class schedule and sign up for classes.

Download our free Harmony Pilates & Physical Therapy app for your IPhone or Android. Check classes, sign up and pay all from your phone.

Click the link below for the services you are interested in!

What's Happening
Pilates classes with childcare! We are so excited to partner with My Gym in our Aina Haina location to offer a special Pilates reformer class once a week with childcare provided! You can drop your little one (all ages welcome over 8 weeks) at My Gym and take a great 45 minute reformer class right next door! Classes are Tuesdays at 3:30pm. Click here to sign up!

Japanese language Pilates Mat Classes at Harmony! Harmony is the only Pilates studio on Oahu offering Pilates classes in Japanese. Taught by Kazuyo Sigler, a Harmony Pilates teacher training graduate and native Japanese speaker, these classes will improve your overall strength, flexibility, posture and core stabilization. Pilates can benefit anyone! All levels of students welcome, no prior experience necessary. Call or email us for more information, or Click here to sign up! This class is offered Fridays at 5:30pm in our Aina Haina location. Kazuyo is also available for private lessons and classes at Harmony.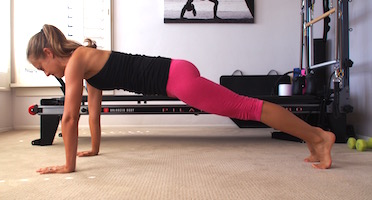 I love planks! I would shout it from the rooftops if I could. I know I'm crazy and weird, but I seriously just love them. I use them with patients, in Pilates classes and for my own workouts, and I think they are one of the best ways to really kick on the core muscles, while getting weight bearing strengthening and toning through the upper body. The downside is that they are hard to do correctly, and then just plain hard to do when done correctly, so most people skip them all together. We are going to rectify this situation today!

Read More »